Hey guys,
I want to start by apologizing for my lack of updates in the past weeks. My schoolwork took over my life for the last month or so of the year and it made it very difficult to find time to blog. I've been to 2 MiLB games in the time between my Opening Day Post  and this post. But today, I completely wiped my iPod, which means I lost all my pictures from those two games. I'll just give you a quick overview of my stats from those two games.
4/20/2013 at State Mutual Stadium:
3 Baseballs
1 pair of BP Cleats
An unbroken Game used bat from Rome Braves 1st Baseman Edison Sanchez.
5/6/2013 at State Mutual Stadium
6 baseballs (including a Josh Elander Home run ball I found behind the Stadium postgame)
Lineup Card from the Hagerstown Suns Postgame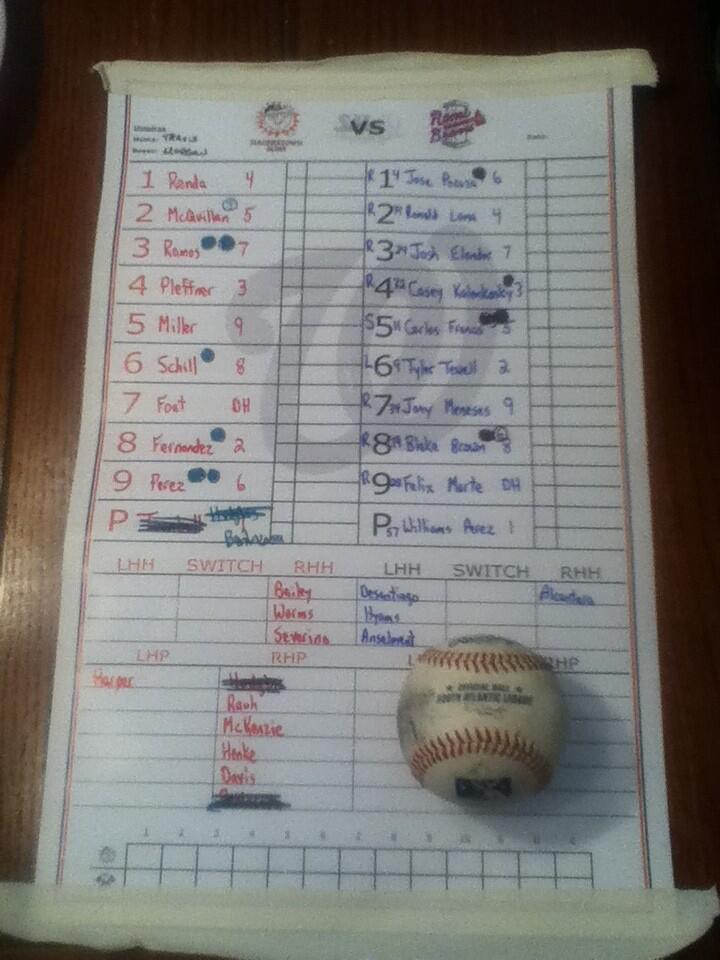 Sadly, those are the only pictures I still have from the game and the items I got from the games.
But, on a much more positive note, I have a great schedule ahead of me game wise in the next 3 Weeks!
This coming Sunday, June 2nd, I will be going to Chattanooga with my dad to see my first Southern League game. The Chattanooga Lookouts are playing host to the Mississippi Braves on Sunday at 5:15pm EST. I will be there much earlier then 5:15 though. I hopefully am getting some great seats thanks to a Twitter friend, @thebouldinstein. Drop him a follow. He's a great guy! Also, Mississippi's radio broadcaster, Kyle Tait, offered to get me and my dad into the stadium early, whenever we arrive! So, I am going to be able to have a good conversation with Kyle about the Broadcasting  profession (that is my dream job, calling MiLB or MLB games). I may be able to be INSIDE the stadium for batting practice. That would be pure heaven for a ballhawk like me!
I'm also attending the June 8th Rome Braves Game. They are being opposed by the Savannah Sand Gnats.
On June 17th, I'm going to be ballhawking Turner Field for the first time! I am attending the Mets- Braves game on a Monday, so hopefully there won't be much competition. That will be a very fun game!
Hopefully tomorrow, I'll have something else to post for you guys!
Until next time, Be safe, have fun, and GO BRAVES! (and Orioles, Athletics, and Pirates)